JFK Airport
Use this website to quickly find the most important information about John F. Kennedy International Airport: Flights (Departures, Arrivals and Delays), Parking, Car Rentals, Terminals, Hotels near the airport and other information about JFK Airport. Plan your travel to JFK Airport with the information provided in this site. Check New York's Travel Guide at Bautrip for more information about New York.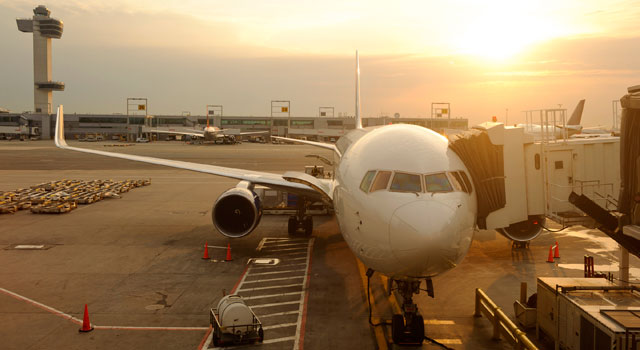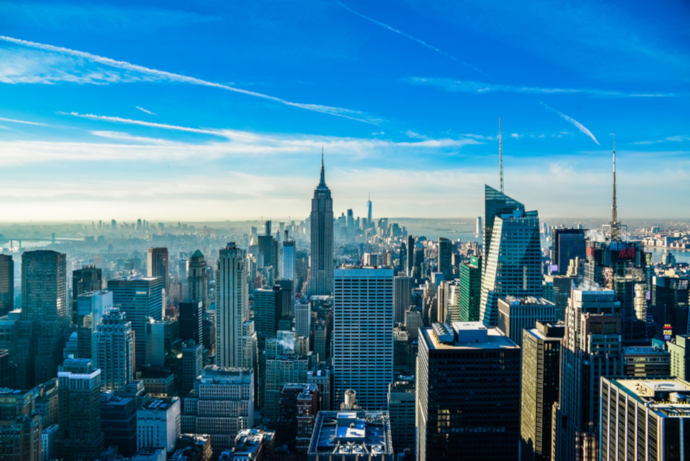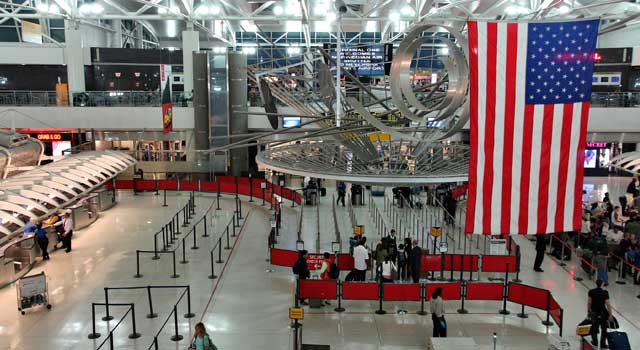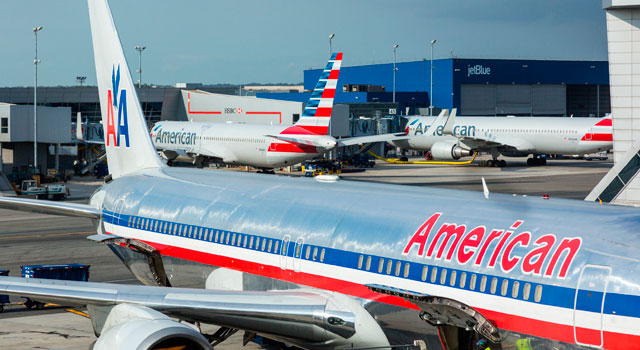 John F. Kennedy International Airport (IATA: JFK, ICAO: KJFK) referred to as JFK, is an international airport located in Jamaica, Queens, in the south-eastern part of New York City. JFK Airport is located 12 miles southeast of Manhattan.
JFK International Airport is operated by the Port Authority of New York and New Jersey, which manages the three other major airports in New York metropolitan area, Newark Liberty International Airport, LaGuardia Airport and Teterboro Airport. JFK has 6 operating airline terminals, 4 runways and 128 aircraft gates serve the terminals.
Top destinations from John F. Kennedy Airport are a mix of international and domestic routes: London, Paris, Los Angeles, Mexico, San Francisco, Santo Domingo, Santiago, Amsterdam, Milan and Madrid.
It is a major international gateway hub for American Airlines and Delta Air Lines. It is also a focus city for JetBlue, Norse Atlantic Airways and Polar Air Cargo.
During 2022, John F. Kennedy Airport registered a total of 55,175,249 passengers.
At JFK Airport there are the following terminals:


Terminal 1
Opened in 1998. It has 11 gates.
See more information
Terminal 4
Opened in 2013, is the terminal at JFK that operates with more international arrival flights. It has a big shopping mall.
See more information
Terminal 5
The major airline operating at the terminal is JetBlue. T5 it is known as well as TWA Flight Center.
See more information
Terminal 7
It is operated by British Airways. It has gates from 1 to 12 and the building has arrivals, departures and concourse levels.
See more information
Terminal 8
It is the largest terminal in the Airport. It has two concourses (B and C) with 12 and 17 gates respectively.
See more information
At JFK Airport passengers will find the following services available:


- Restaurants and cafeterias
- Shops
- Duty Free
- Restrooms
- Drinking Fountains
- Pet Relief Areas
- Phones
- Passengers assistance


You can check terminal by terminal which services are available.
Lost and Found
Contact the Port Authority Police Lost and Found Custodian at:

Phone: +1 (718) 244-4225
Email: jfklostandfound@panynj.gov


For items lost at the TSA Security Check Point, contact: TSA Lost and Found at +1 (718) 917-3999. Please, contact your airline's baggage service office for further information.
There are various means of transport between JFK Airport and New York City and surroundings:


AirTrain: Connects to NYC Subway, LIRR, Terminals and airport's Parking lots.
See more information


Train: By taking the AirTrain first, passengers can get to the railway from JFK.
See more information

Subway: JFK is connected to New York's subway by AirTrain JFK.
See more information


Bus: There are buses that connect the Airport with New York City and other vicinities.
See more information

Transfer: If you want private transportation to and from the Airport you can book a transfer.
See more information


NYC Taxi: Get to Manhattan in just 40 minutes from JFK.
See more information


Car Rental: There are several companies operating at the Airport.
See more information
Contact
Address: John F. Kennedy International Airport (JFK), Queens, NY 11430, USA

Telephone: +1 718-244-4444
The AirTrain JFK is an elevated railway that provides service to JFK Airport. It stops in all airport terminals (outside the terminal buildings except for Terminal 4) and parking areas. It is connected to the Long Island Rail Road and New York City Subway in Queens. The service operates 24/7.


It is a free service within the terminals areas and to the parking lots, hotels shuttles and car rental. Children under five travel for free.
About New York
New York is one of the most famous cities around the world. And we know why. Stroll through Central Park green areas, visit the Brooklyn Bridge and Dumbo, go up the Empire State or take a walk in the High Line.


You can't miss a visit in Broadway, Times Square, and the 5th Avenue. Grand Central Terminal is another must see in the city, as well as the MET, the MOMA or the American Natural History Museum.


There is always a plan for everybody in New York, the city that never sleeps.